Zombie Sex Up The Butt
Poor girl, she's been grabbed by the hair by a scary festering zombie guy. And what does he do first? After giving her a good look at the warts and sores and exploding sores on his grungy dick, he shoves it right smartly up her quivering ass as she screams in protest: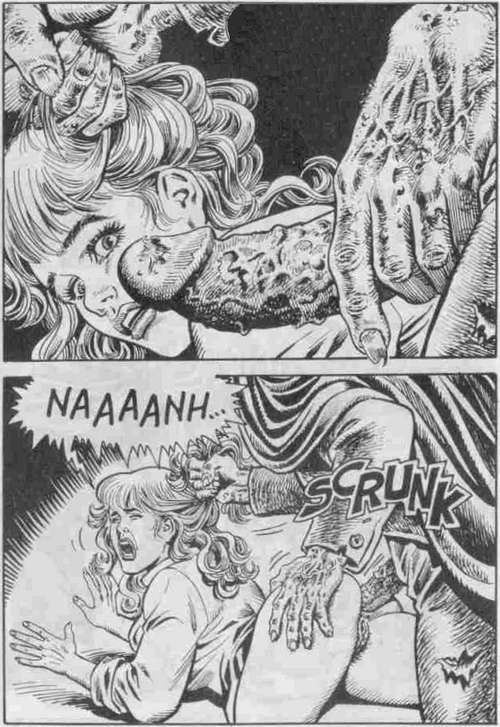 Now we see the extreme closeup of her stretched rosebud, as our hooded zombie monster-guy gets his lumpy cock shoved balls-deep in her anus and starts ramming away. She still doesn't look happy, and can you blame her?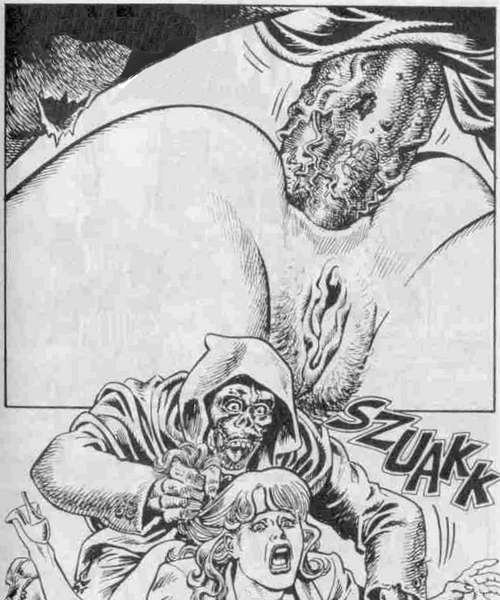 Want more? Click here for a zombie orgy.
Sex slave Blog Posts:
From
Bondage Blog
: "I just stumbled across a very traditional bondage and spanking photoset from Lupus Pictures. Itís primarily spanking porn, but they include the full gamut of hot historical bondage fantasies, including the rack (with water torture), the wooden horse (in a castle courtyard, no less), a steel brank, and then the birch, well applied..." (
More...
)
From
Bondage Blog
: "Thereís a new site called Sex And Submission, from the same folks who revolutionized commercial bondage photography at Hogtied.com. In addition to the strict bondage youíve come to expect, you now get some light-but-authentic bondage sex (mostly oral). You bondage fiends know how rare that is! itís nice to see real tight ship-shape bondage and sex slaves in vulnerable postures of submission while having some hope that youíll actually get to see the helpless bondage blowjob that everybody knows is coming. Itís always been puzzling that we combine bondage and sex in the bedroom, but we canít get them combined much in our porn. Sex And Submission is the start of a new trend..." (
More...
)
From
Bondage Blog
: "I have been publishing this bondage blog since 2003, but somehow the finer points of kinky etiquette have passed me by. For instance, if you rent a sexual slave by the hour, obviously you keep her well tied, obviously you pay her owner, and obviously you use her thoroughly and in every available sexual orifice, starting with her mouth and leaving no hole -- especially not her asshole -- unfucked. The part I did NOT know was that, judging from these pictures, you are apparently also supposed to leave her with a generous one-dollar tip (which, adding insult to insult, she will certainly not be allowed to keep or spend)." (
More...
)
Black Rabbit Hood
:
The Black Rabbit Hood is a top quality black leather bondage hood. This animal face hood is hand crafted from premium black and red garment leather by highly skilled seamstresses. The Black Rabbit Hood is both sexy and scary. The bunny face conveys an expressive sense of mischief and mystery... (
More...
)
Heavy Wooden Paddle
:
This thick wooden paddle is 3" wide on the business end. Similar in shape to a fraternity paddle, these paddles are great for no-nonsense slave discipline and punishment. Made of very strong 7-ply birch plywood... (
More...
)