Zombie Sex Up The Butt
Poor girl, she's been grabbed by the hair by a scary festering zombie guy. And what does he do first? After giving her a good look at the warts and sores and exploding sores on his grungy dick, he shoves it right smartly up her quivering ass as she screams in protest: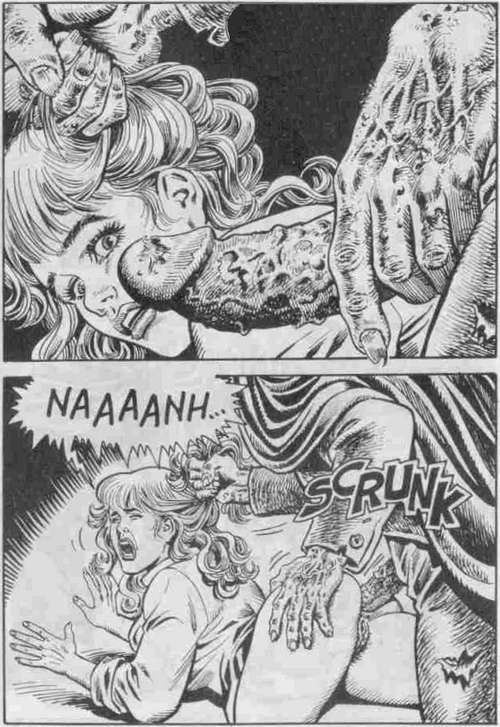 Now we see the extreme closeup of her stretched rosebud, as our hooded zombie monster-guy gets his lumpy cock shoved balls-deep in her anus and starts ramming away. She still doesn't look happy, and can you blame her?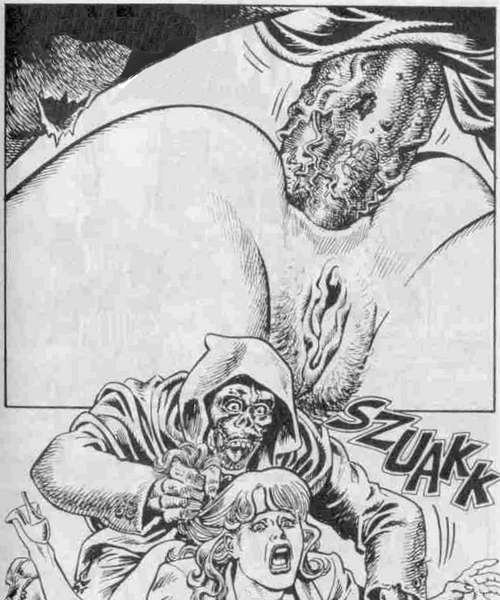 Want more? Click here for a zombie orgy.
Sex slave Blog Posts:
From
Spanking Blog
: "We read in the histories of those terrible Vikings, whose plundering always included (at least in the fevered imaginings of the pious monks who recorded the histories) the carrying-off of nubile farm wenches as slavegirls, with whips and chains and much outrage..." (
More...
)
From
Bondage Blog
: "In 1805, when Lewis And Clark left the Missouri country en route to the Columbia, they took with them a slave woman, the 'wife' of a French voyageur who had originally purchased her from the Hidatsa Indians. Youíve heard of this slave wife; her name was Sacajawea. Ultimately she proved very useful to the expedition, helping it secure horses from the Shoshone. But in a different universe, Lewis and Clark would have had their own slave wives, and maybe they didnít ever get the horses they needed. So they would have had to put the women to work, fitting them with bits and harnesses and stout shoes and decorative horse-tail butt plugs." (
More...
)
From
Bondage Blog
: "Doesnít Victoria Vonn have those classic corn-fed all-American girl-next-door good looks? Itís a pity (for her) that sheís being kept, chained to a radiator, on her knees in a dim room, as a blowjob slave. Her cruel captors have teased her by leaving the keys in sight but hopelessly out of reach. Sorry, girlie, but youíre never going to get them! Youíre staying right there until it's
blowjob time
." (
More...
)
Tall Curved Posture Collar
:
This tall curved costure collar (available in black or white) makes slouching impossible. The curve provides some room for the wearer's jawline, as opposed to the straight edge collars which compel the wearer to keep her chin up and head back. Strict bondage if worn for very long! Closes with locking buckle... (
More...
)
Leather "BJ" Knee Pads
:
These deluxe leather knee pads are the perfect functional accessory for slaves who spend a lot of time on their knees trying to get caught up on their rigorous blowjob quotas. The kneepads are made of durable black leather. These pads are tough enough to last for a lifetime... (
More...
)