Zombie Sex Up The Butt
Poor girl, she's been grabbed by the hair by a scary festering zombie guy. And what does he do first? After giving her a good look at the warts and sores and exploding sores on his grungy dick, he shoves it right smartly up her quivering ass as she screams in protest: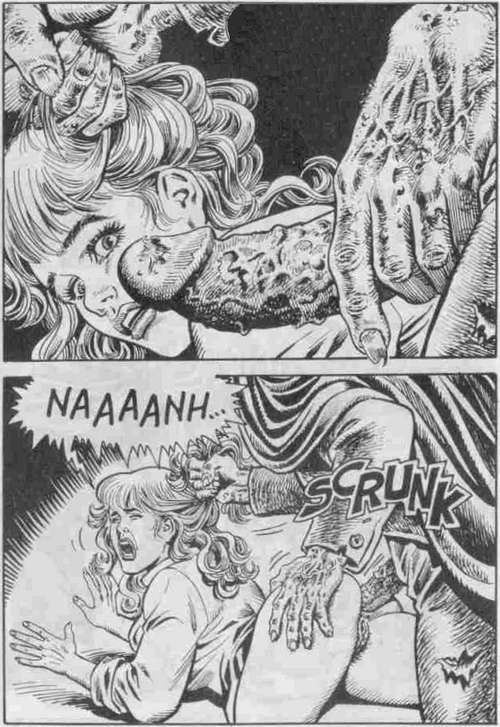 Now we see the extreme closeup of her stretched rosebud, as our hooded zombie monster-guy gets his lumpy cock shoved balls-deep in her anus and starts ramming away. She still doesn't look happy, and can you blame her?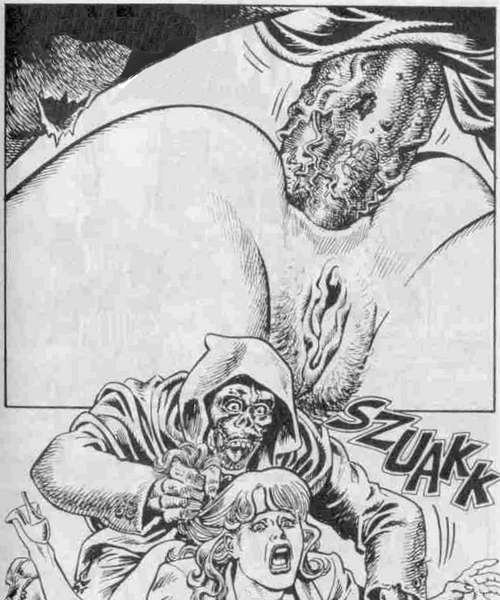 Want more? Click here for a zombie orgy.
Sex slave Blog Posts:
From
Bondage Blog
: "This is not Philip typing. Philip is whispering in my ear as I type. Iím lying on my stomach with a pair of thumb cuffs on. Philip has just removed my panties. Now Philip is reaching his hand up between my legs. Philip has warned me not to make any typing mistakes, or he will squeeze my right nipple. Iím having some difficulty typing because Iím horny and cuffed. I have made many silly typographical errors. Now his cock is up against my pussy. The head of Philipís acock is pressing against my cuynt. Iím a very abasd sexcre..." (
More...
)
From
Bondage Blog
: "Thereís a new site called Sex And Submission, from the same folks who revolutionized commercial bondage photography at Hogtied.com. In addition to the strict bondage youíve come to expect, you now get some light-but-authentic bondage sex (mostly oral). You bondage fiends know how rare that is! itís nice to see real tight ship-shape bondage and sex slaves in vulnerable postures of submission while having some hope that youíll actually get to see the helpless bondage blowjob that everybody knows is coming. Itís always been puzzling that we combine bondage and sex in the bedroom, but we canít get them combined much in our porn. Sex And Submission is the start of a new trend..." (
More...
)
From
Spanking Blog
: "Just a friendly little bondage and cropping, but we know that in the very next picture this sex slave's panties will be down and some guy will be balls-deep inside her. Thereís just something special about plain white panties..."(
More...
)
Metal Anklet with Slave Bells
:
With a row of tiny, silver slave bells attached to a silver chain by little O-rings, this elegant and sexy anklet is worn low on the ankle, adding a dazzling highlight to any slavegirl's foot. It has a small hook and O-ring clasp. (
More...
)
Velcro Bondage System
:
The SportSheets bondage system includes a soft, velvety fitted bed cover with two nylon straps and a drawstring. Also included are four Sportcuffs with four anchor pads. The pads are Velcro squares that can be placed anywhere on the bed cover. The cuffs are then attached to permit a wide variety of light duty bondage positions. (
More
)