Zombie Sex Up The Butt
Poor girl, she's been grabbed by the hair by a scary festering zombie guy. And what does he do first? After giving her a good look at the warts and sores and exploding sores on his grungy dick, he shoves it right smartly up her quivering ass as she screams in protest: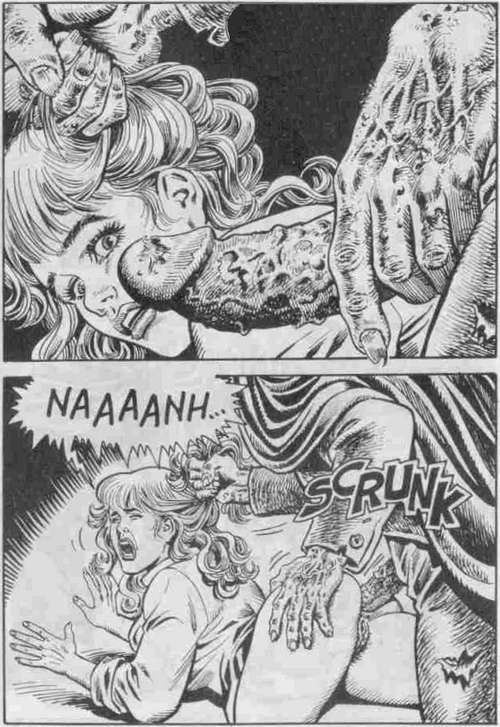 Now we see the extreme closeup of her stretched rosebud, as our hooded zombie monster-guy gets his lumpy cock shoved balls-deep in her anus and starts ramming away. She still doesn't look happy, and can you blame her?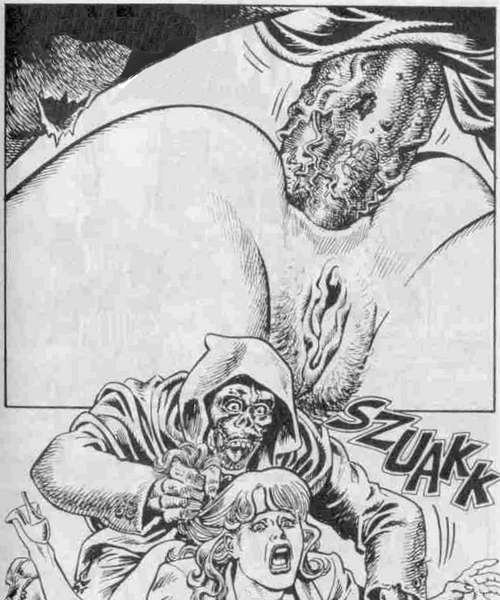 Want more? Click here for a zombie orgy.
Sex slave Blog Posts:
From
Bondage Blog
: "one of the best uses of bondage is to allow me to concentrate on what I'm doing, without undue interruptions. I want my fingers in her, but my hands are busy holding her down. I release her, and open a drawer. I pull out handcuffs. I toss a pillow near her hips, and lift her ass onto it. I cuff her wrists behind her back. Now I can work on her pussy. I pull her lips back to expose her clit. It is a juicy round pearl, full and extending from its hood. I put the tip of my tongue on it, isolating it in her sensations. She moves in response. I lap at it. She squirms, pants a little. I slip a finger into her. And another." (
More...
)
From
Bondage Blog
: "Lives there a man who could refuse this kind of request? Naw, I didn't think so: "Honey?" I whispered as he rubbed some spit on his throbbing erection. He smiled. "Yes, baby?" I took a deep breath and sighed. I hoped my request wouldn't come out wrong. I lowered my eyes and softly spoke. "I've been fantasizing about you um... tying me up and you know, taking control of me." He grabbed two silk ties that were nearby and swiftly turned me on my side. My breath quickened as he bound my ankles together without hesitation. My wrists were next, and he tied them just tightly enough to ensure I couldn't get free without a stuggle." (
More...
)
From
Bondage Blog
: "What a look on this slave's face! She's tied over a leather foot stool, getting walloped with a paddle, but the neighbors can't hear a thing..." (
More...
)
Straight Rattan Cane
:
This rattan cane is great for serious slave punishment. Brisk ass caning delivers perfect stripes, vivid welts, and blazing sore butts with a minimum of domly effort. When you want your sex slave to tremble, threaten a harsh caning! Rattan is like bamboo, only more flexible. The handle is covered in suede leather... (
More...
)
Tulip Anal Plug
:
Made with more advanced players in mind, this gracefully designed anal plug features a rounded tip for effortless penetration of your ass slave. The yielding tulip shape fans wide, then slims to a narrow column for an secure fit. The wide base provides improved manipulation and a helpful safeguard too. We like it. A lot. (
More...
)