Zombie Sex Up The Butt
Poor girl, she's been grabbed by the hair by a scary festering zombie guy. And what does he do first? After giving her a good look at the warts and sores and exploding sores on his grungy dick, he shoves it right smartly up her quivering ass as she screams in protest: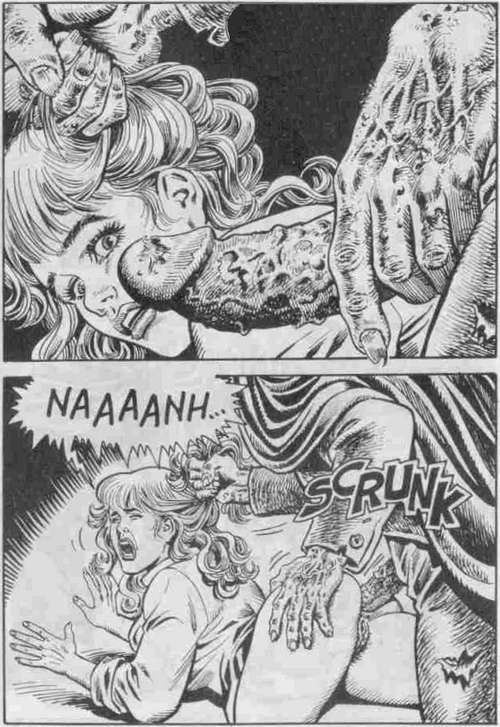 Now we see the extreme closeup of her stretched rosebud, as our hooded zombie monster-guy gets his lumpy cock shoved balls-deep in her anus and starts ramming away. She still doesn't look happy, and can you blame her?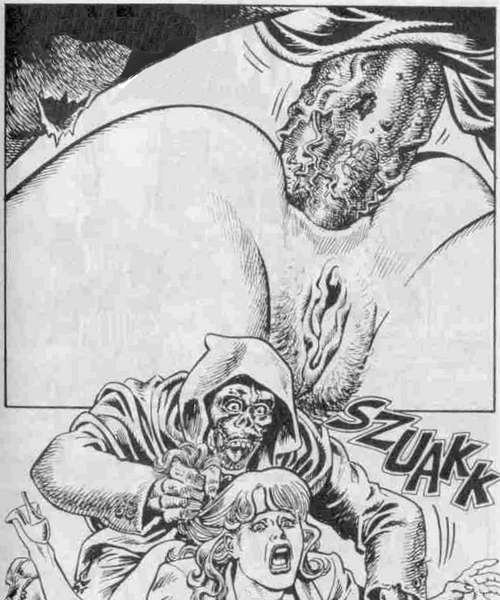 Want more? Click here for a zombie orgy.
Sex slave Blog Posts:
From
Spanking Blog
: "We read in the histories of those terrible Vikings, whose plundering always included (at least in the fevered imaginings of the pious monks who recorded the histories) the carrying-off of nubile farm wenches as slavegirls, with whips and chains and much outrage..." (
More...
)
From
Bondage Blog
: "What a look on this slave's face! She's tied over a leather foot stool, getting walloped with a paddle, but the neighbors can't hear a thing..." (
More...
)
From
Bondage Blog
: "Lives there a man who could refuse this kind of request? Naw, I didn't think so: "Honey?" I whispered as he rubbed some spit on his throbbing erection. He smiled. "Yes, baby?" I took a deep breath and sighed. I hoped my request wouldn't come out wrong. I lowered my eyes and softly spoke. "I've been fantasizing about you um... tying me up and you know, taking control of me." He grabbed two silk ties that were nearby and swiftly turned me on my side. My breath quickened as he bound my ankles together without hesitation. My wrists were next, and he tied them just tightly enough to ensure I couldn't get free without a stuggle." (
More...
)
Velcro Bondage System
:
The SportSheets bondage system includes a soft, velvety fitted bed cover with two nylon straps and a drawstring. Also included are four Sportcuffs with four anchor pads. The pads are Velcro squares that can be placed anywhere on the bed cover. The cuffs are then attached to permit a wide variety of light duty bondage positions. (
More
)
Black Nipple Clamps
:
The Black Spring Jaw Style Nipple Clamp from Spartacus is designed to give your sex slave some serious nipple pain and pleasure. Connected by an all-black chain, these clamps are spring loaded and adjustable, while the rubber coating provides a relentless yet comfortable vise... (
More...
)