Zombie Sex Up The Butt
Poor girl, she's been grabbed by the hair by a scary festering zombie guy. And what does he do first? After giving her a good look at the warts and sores and exploding sores on his grungy dick, he shoves it right smartly up her quivering ass as she screams in protest: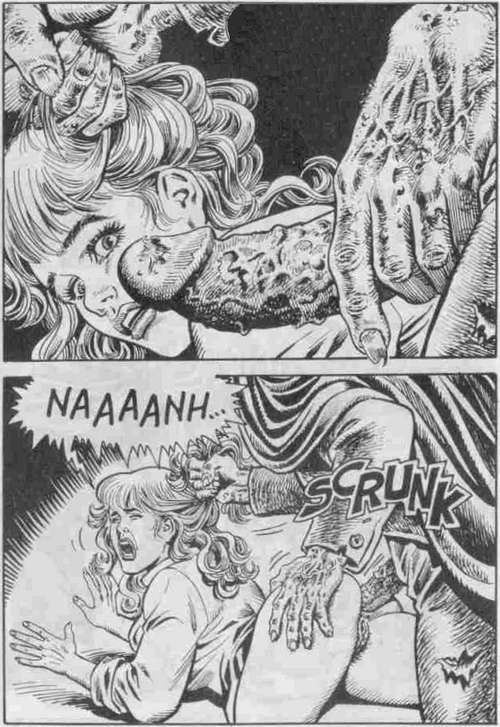 Now we see the extreme closeup of her stretched rosebud, as our hooded zombie monster-guy gets his lumpy cock shoved balls-deep in her anus and starts ramming away. She still doesn't look happy, and can you blame her?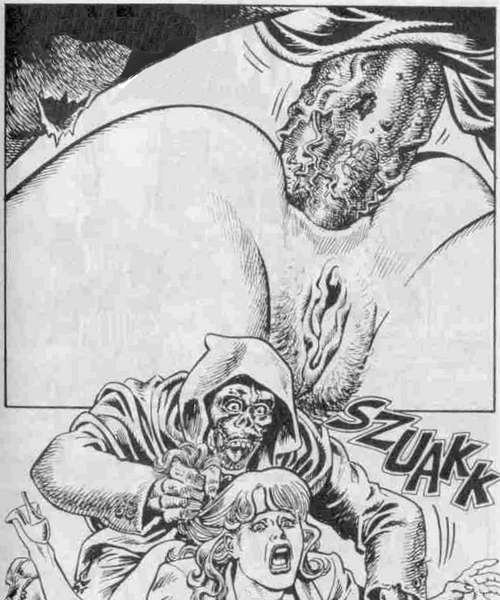 Want more? Click here for a zombie orgy.
Sex slave Blog Posts:
From
Bondage Blog
: "I think wooden stocks, even simple portable ones like this pretty Pain Toy model is getting spanked in, would be a fun addition to the slave discipline equipment. And from the look on this girl's face, she needs something to keep her from putting her hands behind her..." (
More...
)
From
Bondage Blog
: "Hereís a slave girl talking about the feel of her collar: Itís fastened about my neck. Black leather. Wide and soft yet unyielding. When I tip my head back I can feel the buckle there and it gives me a shiver of delight. The wide strap attached sits against my spine and my wrists are bound. If I relax them, it pulls on the collar so I must hold myself erect. This is different because I must now force myself to keep my muscles tight. This raises my normal level of docility when I have a collar on. This is a new state of being." (
More...
)
From
Spanking Blog
: "I'm guessing this is the full meal deal slavegirl fantasy: bastinado in a tropical dungeon, followed by much limping about and eagerness-to-please." (
More...
)
Black Nipple Clamps
:
The Black Spring Jaw Style Nipple Clamp from Spartacus is designed to give your sex slave some serious nipple pain and pleasure. Connected by an all-black chain, these clamps are spring loaded and adjustable, while the rubber coating provides a relentless yet comfortable vise... (
More...
)
Metal Anklet with Slave Bells
:
With a row of tiny, silver slave bells attached to a silver chain by little O-rings, this elegant and sexy anklet is worn low on the ankle, adding a dazzling highlight to any slavegirl's foot. It has a small hook and O-ring clasp. (
More...
)