Zombie Sex Up The Butt
Poor girl, she's been grabbed by the hair by a scary festering zombie guy. And what does he do first? After giving her a good look at the warts and sores and exploding sores on his grungy dick, he shoves it right smartly up her quivering ass as she screams in protest: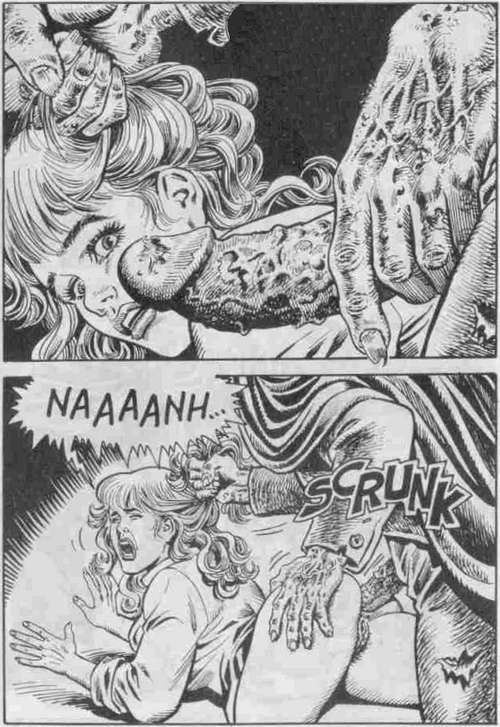 Now we see the extreme closeup of her stretched rosebud, as our hooded zombie monster-guy gets his lumpy cock shoved balls-deep in her anus and starts ramming away. She still doesn't look happy, and can you blame her?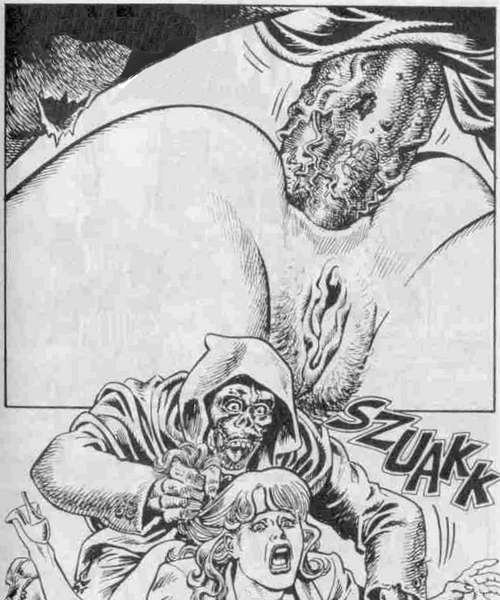 Want more? Click here for a zombie orgy.
Sex slave Blog Posts:
From
Spanking Blog
: "Cool, itís a hanging spanking bar, for assembly-line spanking of naughty slave girls! And indeed, thatís just what lucky fellow Mark Davis is doing: spanking the exposed bottoms of delicious models Jada Fire and Tawni Ryden..." (
More...
)
From
Bondage Blog
: "This comes from Spanking Blog, where the appeal doubtless had something to do with this girlís tears and the big-ass slave strap sheís getting a spanking with. But I like the artwork for that lovely kneeling slave posture..." (
More...
)
From
Bondage Blog
: "This is not Philip typing. Philip is whispering in my ear as I type. Iím lying on my stomach with a pair of thumb cuffs on. Philip has just removed my panties. Now Philip is reaching his hand up between my legs. Philip has warned me not to make any typing mistakes, or he will squeeze my right nipple. Iím having some difficulty typing because Iím horny and cuffed. I have made many silly typographical errors. Now his cock is up against my pussy. The head of Philipís acock is pressing against my cuynt. Iím a very abasd sexcre..." (
More...
)
Buy Sex slave gear from Adult Empire:
Straight Rattan Cane:
This straight rattan cane is perfect for your BDSM discipline scenarios, and will easily deliver stripes and welts on submissive bottoms. Do you enjoy tears? This cane will get 'em for you. Rattan is similar to bamboo, only stronger and more flexible. The handle is covered in soft suede leather...
Leather Bondage Mittens:
These high quality bondage mitts are wonderful at containing busy hands and fingers. Made of fine garment leather over soft padding, each padded mitten has a large D-ring on a heavy leather buckle strap for cinching down on the wrist and attaching to multiple points for varied bondage possibilities...