Zombie Sex Up The Butt
Poor girl, she's been grabbed by the hair by a scary festering zombie guy. And what does he do first? After giving her a good look at the warts and sores and exploding sores on his grungy dick, he shoves it right smartly up her quivering ass as she screams in protest: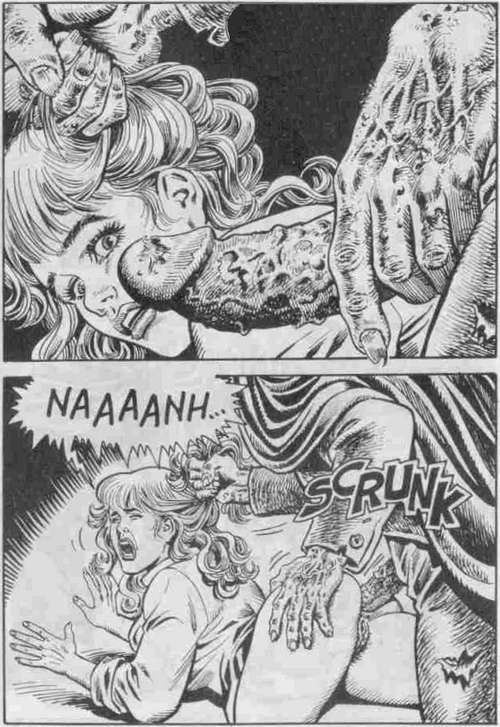 Now we see the extreme closeup of her stretched rosebud, as our hooded zombie monster-guy gets his lumpy cock shoved balls-deep in her anus and starts ramming away. She still doesn't look happy, and can you blame her?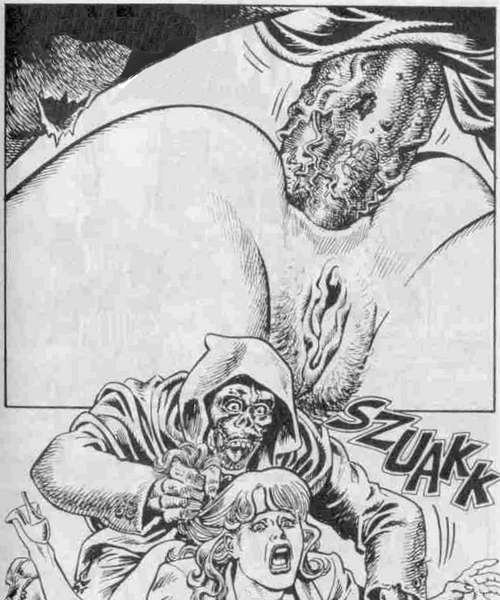 Want more? Click here for a zombie orgy.
Sex slave Blog Posts:
From
figging.com
: "I just found another gallery in the same series as the one in
this post
, that has an even more explicit photo of a well-spanked slavegirl having a ginger fig inserted in her bottom. Check it out!
Spanking And Figging gallery
." (
More...
)
From
Bondage Blog
: "Not another porno caged blowjob picture, no, rather a description of the real thing: So I crawled across the floor, stripped and put my clothes away and crawled back to him. He opened the cage in the time it took me. "Kneel up." He placed the steel collar around my throat and locked it, then directed me into the cage. Then he padlocked it shut. He allowed me to suck his cock through the bars, then went to shower. He returned to check on me, and offered me his cock to suck again. Greedy and hungry with lust I fell on it starved. The cage does that to me even if nothing else does." (
More...
)
From
Bondage Blog
: "In 1805, when Lewis And Clark left the Missouri country en route to the Columbia, they took with them a slave woman, the 'wife' of a French voyageur who had originally purchased her from the Hidatsa Indians. Youíve heard of this slave wife; her name was Sacajawea. Ultimately she proved very useful to the expedition, helping it secure horses from the Shoshone. But in a different universe, Lewis and Clark would have had their own slave wives, and maybe they didnít ever get the horses they needed. So they would have had to put the women to work, fitting them with bits and harnesses and stout shoes and decorative horse-tail butt plugs." (
More...
)
Single Tail Whip
:
This high-quality single-tail whip is made of finely braided black leather with a black nylon tassel at the end. The gold standard for punishing your wayward sex slave! This supple, well-crafted, precision instrument will provide endless fun for you and limitless pain and pleasure for your punished slaves... (
More...
)
Red Flicker Whip
:
A long thin red flicker whip with a black braided nylon tassel at the end. It produces a distinct stinging sensation your slave will strive to avoid. Sleek, elegant, precise and potentially vicious... (
More...
)