Zombie Sex Up The Butt
Poor girl, she's been grabbed by the hair by a scary festering zombie guy. And what does he do first? After giving her a good look at the warts and sores and exploding sores on his grungy dick, he shoves it right smartly up her quivering ass as she screams in protest: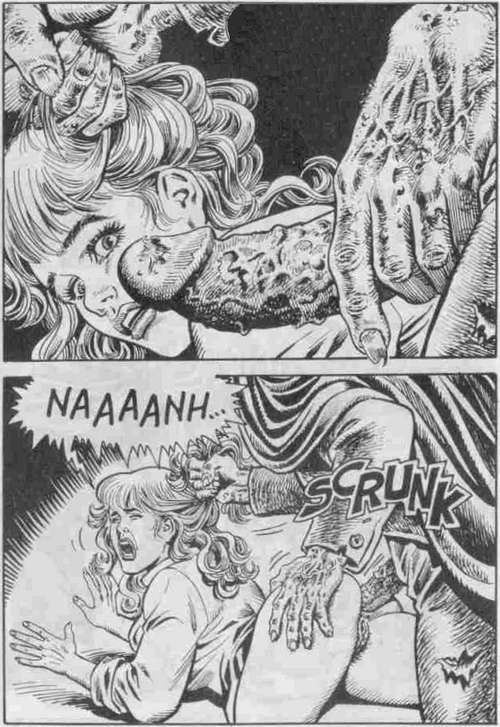 Now we see the extreme closeup of her stretched rosebud, as our hooded zombie monster-guy gets his lumpy cock shoved balls-deep in her anus and starts ramming away. She still doesn't look happy, and can you blame her?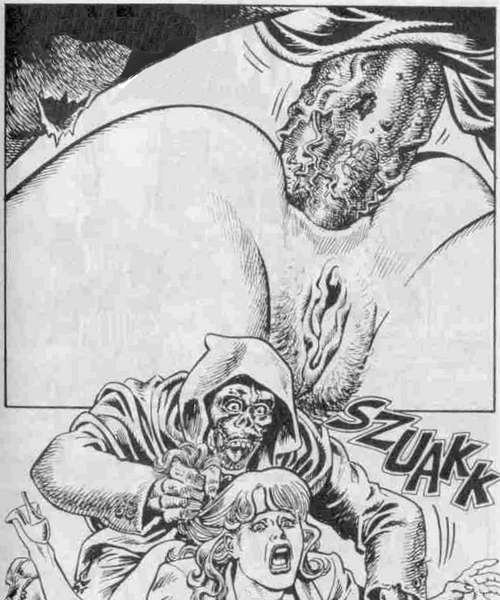 Want more? Click here for a zombie orgy.
Sex slave Blog Posts:
From
Bondage Blog
: "Lives there a man who could refuse this kind of request? Naw, I didn't think so: "Honey?" I whispered as he rubbed some spit on his throbbing erection. He smiled. "Yes, baby?" I took a deep breath and sighed. I hoped my request wouldn't come out wrong. I lowered my eyes and softly spoke. "I've been fantasizing about you um... tying me up and you know, taking control of me." He grabbed two silk ties that were nearby and swiftly turned me on my side. My breath quickened as he bound my ankles together without hesitation. My wrists were next, and he tied them just tightly enough to ensure I couldn't get free without a stuggle." (
More...
)
From
ErosBlog: The Sex Blog
: "How about the notoriously severe spanking and caning DVDs produced by Lupus Pictures? What right-thinking innocent girl would voluntarily consent to an ass-whipping that leaves her in tears with flaming red welts on her bottom?" (
More...
)
From
Bondage Blog
: "I have been publishing this bondage blog since 2003, but somehow the finer points of kinky etiquette have passed me by. For instance, if you rent a sexual slave by the hour, obviously you keep her well tied, obviously you pay her owner, and obviously you use her thoroughly and in every available sexual orifice, starting with her mouth and leaving no hole -- especially not her asshole -- unfucked. The part I did NOT know was that, judging from these pictures, you are apparently also supposed to leave her with a generous one-dollar tip (which, adding insult to insult, she will certainly not be allowed to keep or spend)." (
More...
)
Buy Sex slave gear from Adult Empire:
Purple Hearts Spanking Paddle:
This lovely heart-adorned paddle packs a wallop. Fraternity paddle shaped, made of three layers of firm latigo leather, with two purple suede cut out hearts decorating the business end.
Black Nipple Clamps:
The Black Spring Jaw Style Nipple Clamp from Spartacus is designed for serious breast bondage pleasure. The clamp tips are rubber coated, spring loaded, and adjustable, connected by an all-black chain. These sturdy clamps are easy to get on and off, while the rubber coating provides a relentless yet comfortable vise...