Zombie Sex Up The Butt
Poor girl, she's been grabbed by the hair by a scary festering zombie guy. And what does he do first? After giving her a good look at the warts and sores and exploding sores on his grungy dick, he shoves it right smartly up her quivering ass as she screams in protest: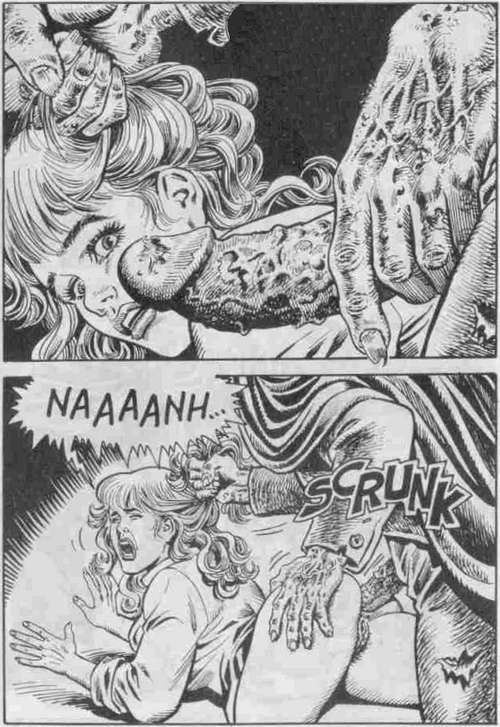 Now we see the extreme closeup of her stretched rosebud, as our hooded zombie monster-guy gets his lumpy cock shoved balls-deep in her anus and starts ramming away. She still doesn't look happy, and can you blame her?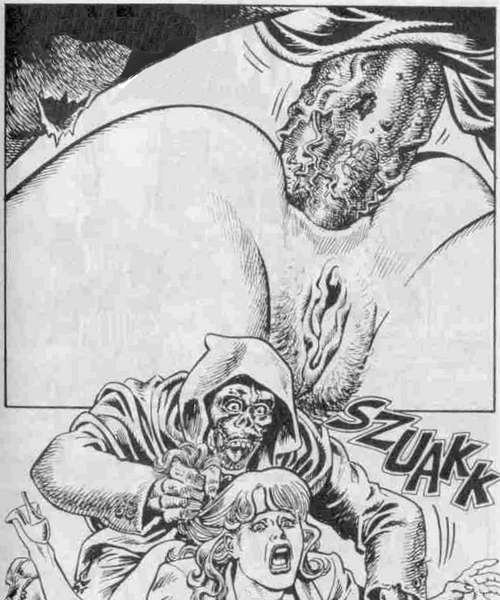 Want more? Click here for a zombie orgy.
Sex slave Blog Posts:
From
Bondage Blog
: "Doesn't Victoria Vonn have those classic corn-fed all-American girl-next-door good looks? It's a pity (for her) that she's being kept, chained to a radiator, on her knees in a dim room, as a blowjob slave. Her cruel captors have teased her by leaving the keys in sight but hopelessly out of reach. Sorry, girlie, but you're never going to get them! You're staying right there until it's
blowjob time
." (
More...
)
From
ErosBlog: The Sex Blog
: "How about the notoriously severe spanking and caning DVDs produced by Lupus Pictures? What right-thinking innocent girl would voluntarily consent to an ass-whipping that leaves her in tears with flaming red welts on her bottom?" (
More...
)
From
Bondage Blog
: "I have been publishing this bondage blog since 2003, but somehow the finer points of kinky etiquette have passed me by. For instance, if you rent a sexual slave by the hour, obviously you keep her well tied, obviously you pay her owner, and obviously you use her thoroughly and in every available sexual orifice, starting with her mouth and leaving no hole -- especially not her asshole -- unfucked. The part I did NOT know was that, judging from these pictures, you are apparently also supposed to leave her with a generous one-dollar tip (which, adding insult to insult, she will certainly not be allowed to keep or spend)." (
More...
)
Buy Sex slave gear from Adult Empire:
Heavy Deerskin Flogger:
Deerskin's reputation for being thick, durable, and supple is fully felt in this flogger. The 35 long tails hang together well to deliver a deep and smooth impact. This flogger is capable of achieving gentle caresses as well as whopping thuds...
Leather Bondage Mittens:
These high quality bondage mitts are wonderful at containing busy hands and fingers. Made of fine garment leather over soft padding, each padded mitten has a large D-ring on a heavy leather buckle strap for cinching down on the wrist and attaching to multiple points for varied bondage possibilities...