Zombie Sex Up The Butt
Poor girl, she's been grabbed by the hair by a scary festering zombie guy. And what does he do first? After giving her a good look at the warts and sores and exploding sores on his grungy dick, he shoves it right smartly up her quivering ass as she screams in protest: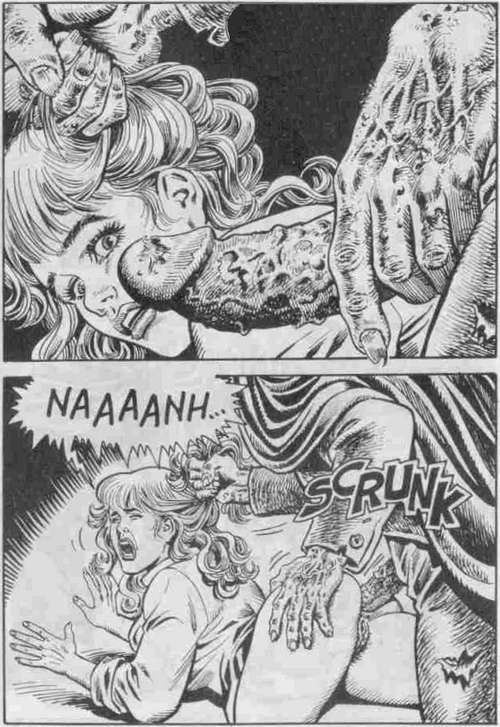 Now we see the extreme closeup of her stretched rosebud, as our hooded zombie monster-guy gets his lumpy cock shoved balls-deep in her anus and starts ramming away. She still doesn't look happy, and can you blame her?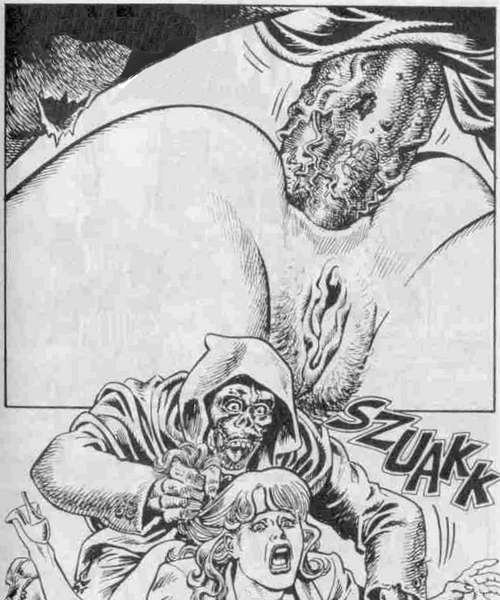 Want more? Click here for a zombie orgy.
Sex slave Blog Posts:
From
Bondage Blog
: "Doesn't Victoria Vonn have those classic corn-fed all-American girl-next-door good looks? It's a pity (for her) that she's being kept, chained to a radiator, on her knees in a dim room, as a blowjob slave. Her cruel captors have teased her by leaving the keys in sight but hopelessly out of reach. Sorry, girlie, but you're never going to get them! You're staying right there until it's
blowjob time
." (
More...
)
From
Spanking Blog
: "Have you got a slave girl who's sullen about her corner time? Or worse yet, stubborn? No matter how many times you spank her, she's back out of the corner in fourteen seconds flat, wheedling for a cushion or some lotion or whatever it is that bad girls think they should have while they kneel in the corner to contemplate their misdeeds?" (
More...
)
From
Spanking Blog
: "Here's a pleasant scene from the usually-gritty-and-severe whipping folks at Pain Gate. A sunny day suitable for a picnic, lovely scenery, two mostly-bare slavegirls, a whipping post, some sort of snake whip..." (
More...
)
Leather "BJ" Knee Pads
:
These deluxe leather knee pads are the perfect functional accessory for slaves who spend a lot of time on their knees trying to get caught up on their rigorous blowjob quotas. The kneepads are made of durable black leather. These pads are tough enough to last for a lifetime... (
More...
)
Tulip Anal Plug
:
Made with more advanced players in mind, this gracefully designed anal plug features a rounded tip for effortless penetration of your ass slave. The yielding tulip shape fans wide, then slims to a narrow column for an secure fit. The wide base provides improved manipulation and a helpful safeguard too. We like it. A lot. (
More...
)