Zombie Sex Up The Butt
Poor girl, she's been grabbed by the hair by a scary festering zombie guy. And what does he do first? After giving her a good look at the warts and sores and exploding sores on his grungy dick, he shoves it right smartly up her quivering ass as she screams in protest: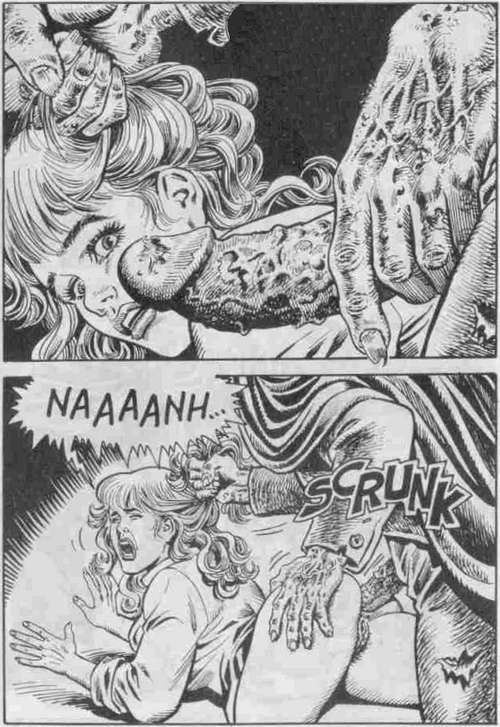 Now we see the extreme closeup of her stretched rosebud, as our hooded zombie monster-guy gets his lumpy cock shoved balls-deep in her anus and starts ramming away. She still doesn't look happy, and can you blame her?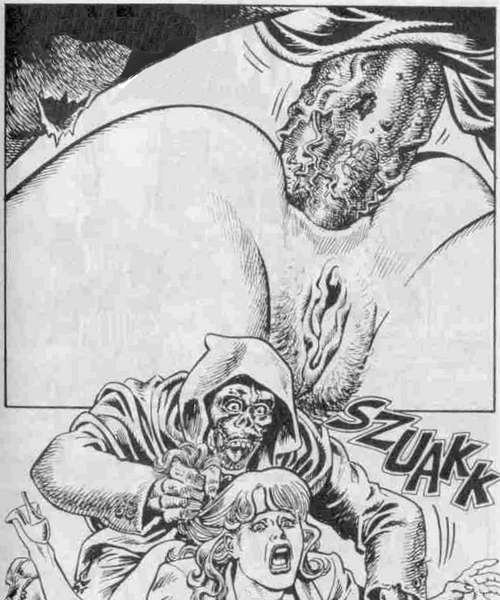 Want more? Click here for a zombie orgy.
Sex slave Blog Posts:
From
Bondage Blog
: "This is not Philip typing. Philip is whispering in my ear as I type. Iím lying on my stomach with a pair of thumb cuffs on. Philip has just removed my panties. Now Philip is reaching his hand up between my legs. Philip has warned me not to make any typing mistakes, or he will squeeze my right nipple. Iím having some difficulty typing because Iím horny and cuffed. I have made many silly typographical errors. Now his cock is up against my pussy. The head of Philipís acock is pressing against my cuynt. Iím a very abasd sexcre..." (
More...
)
From
ErosBlog: The Sex Blog
: "How about the notoriously severe spanking and caning DVDs produced by Lupus Pictures? What right-thinking innocent girl would voluntarily consent to an ass-whipping that leaves her in tears with flaming red welts on her bottom?" (
More...
)
From
Bondage Blog
: "Not another porno caged blowjob picture, no, rather a description of the real thing: So I crawled across the floor, stripped and put my clothes away and crawled back to him. He opened the cage in the time it took me. "Kneel up." He placed the steel collar around my throat and locked it, then directed me into the cage. Then he padlocked it shut. He allowed me to suck his cock through the bars, then went to shower. He returned to check on me, and offered me his cock to suck again. Greedy and hungry with lust I fell on it starved. The cage does that to me even if nothing else does." (
More...
)
Jail Cell Steel Cage
:
The Jail Cell Stand-Up Cage is perfect for keeping your sex slave securely captive, and exactly where you want. You can stash your slaves in this very attractive steel cage and wonít need to worry about them escaping. Just pull them out when you are ready for service, they will be grateful and attentive! (
More...
)
Heavy Wooden Paddle
:
This thick wooden paddle is 3" wide on the business end. Similar in shape to a fraternity paddle, these paddles are great for no-nonsense slave discipline and punishment. Made of very strong 7-ply birch plywood... (
More...
)